My bag contents this month:
COOLA Mineral Face SPF 20 Unscented Moisturizer - .23 fl oz / 7ml
Nailtini Nail Lacquer in 'Mai Tai' - 15ml / .5 fl oz
POP Beauty Pouty Pop Crayon in 'Coral Crush' - 3g / 0.1 oz
BH Cosmetics California Collection - 3 sample eyeshadows
Sexy Hair Soy Renewal Beach Spray - 1.7 fl oz / 50ml
Overall, I'm pretty happy with the majority of the samples I received this month. To sum things up... I've fallen in
love
with the beach spray (it smells divine and gives my hair the added texture/volume it so desperately needs). I'm thrilled to have received the coral lip crayon this month - I had my fingers crossed for it! Sunscreen is always welcome here, and I'm really quite pleased that it's mineral, organic and cruelty-free! The nail polish isn't really my thing - I'm already a Zoya addict and hardly stray from what I already know and love. ;) The California Collection sample eyeshadows were a bit of a let down - absolutely gorgeous, but they are sheer and it takes a lot of effort to build up the color.
BH Cosmetics California Collection sample palette:
Swatches:
(BH Cosmetics Hollywood, San Francisco, and Malibu are swatched over Tick:Tock Cosmetics Infinity Eye Shadow Base in 'Milky Way' and POP Beauty Pouty Pop Crayon in Coral Crush is swatched over bare skin.)
P.S. ...Woops! I almost forgot to mention - I received a sneak peek e-mail today! It looks as though some lucky subscribers will be receiving an Urban Decay lipstick sample next month (click to enlarge the photo):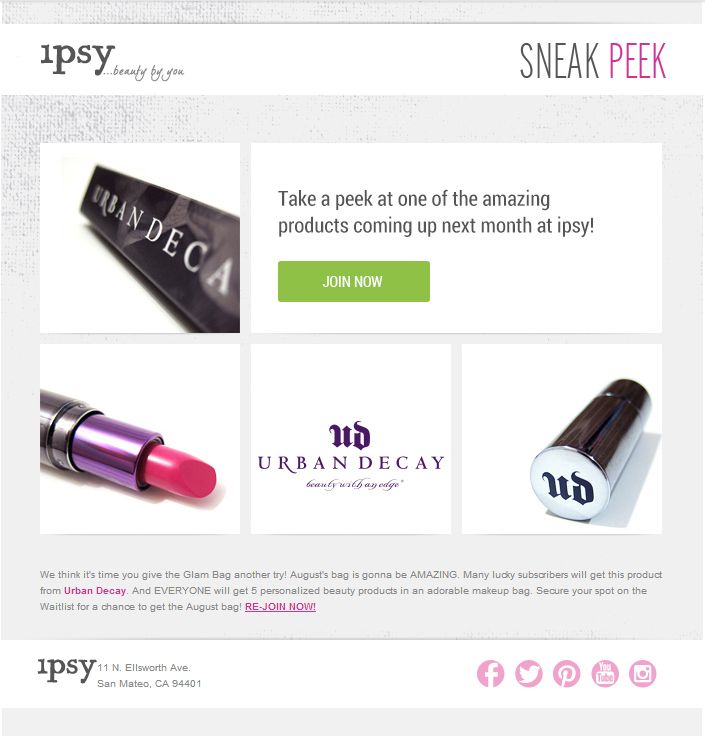 *This is likely not a guaranteed sample for all subscribers & there is a current waitlist for new subscribers. Signing up now may be your best shot at being taken off the wait list in time for the August Glam Bag, just a heads up! <3
If you're interested in signing up for Ipsy I would love if you use my referral link by clicking here. :)
Ipsy is a beauty subscription service. For $10 a month (free shipping within the U.S.), you will receive 4-5 deluxe or full-size beauty products in a 'glam' (cosmetic) bag. You may cancel your subscription at any time (unless, of course, you sign up for a yearly subscription). Ipsy is currently working on their referral program (when two people use your specific referral link to sign up for the monthly glam bag, you will receive a bonus item in your next glam bag) and allows you to give feedback on the products you receive each month so that they can better match you to more relevant products in the future.
Thank you for viewing! <3
FTC: This subscription is paid for by myself/by my boyfriend. I am not being compensated to write this post, these are my honest opinions on the products and company. If you choose to use my referral link, I may potentially receive a bonus item in my next Glam Bag. The photos were taken in natural lighting and are unaltered aside from cropping and adding text.