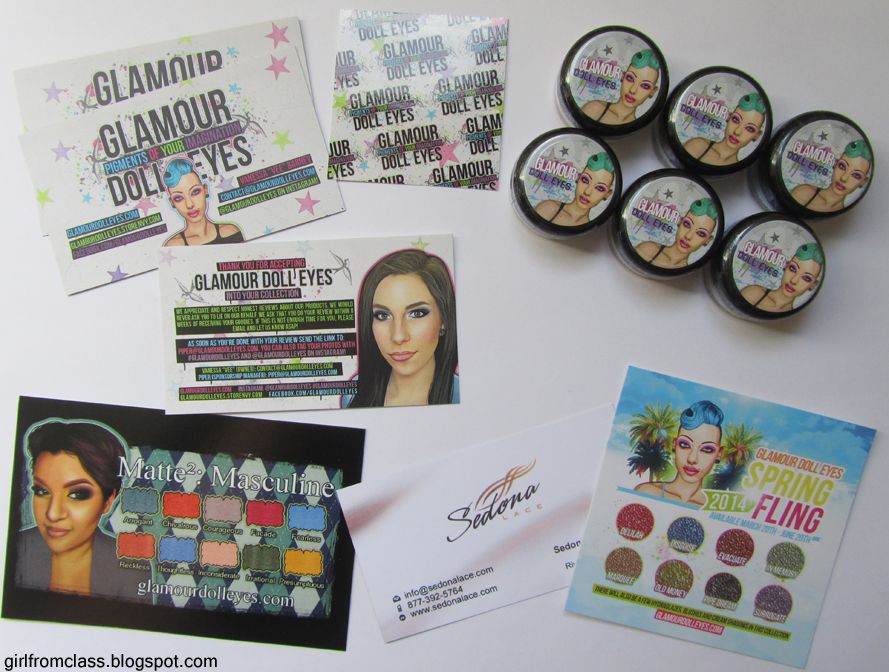 I was recently given the opportunity to do a review for my blog on the company Glamour Doll Eyes & I could not be more excited to share them with you! The owner was kind enough to let me choose 6 sample eyeshadows to try out and give my opinion on. :)
Actually, this was kind of a no-brainer for me because I have to admit - Glamour Doll Eyes is already a company that is well known to me, that I have purchased from in the past.. and still continue to purchase from. ;) I personally think that Glamour Doll Eyes has excellent customer service and that is my number one when it comes to purchasing from any company.
In my experience - shipping has always been quick, inexpensive (+ shipping is always free on sample orders!), the products are packaged neatly (bubble mailer, jars are sealed) and I've always received business cards (and even promotional business cards for other indie companies), stickers, eyeshadow samples, and product information for upcoming collections and/or product information for the collections I had purchased from with my orders. I don't know about you, but I think it's pretty awesome to see other indie companies supporting one another. I really love their professionalism when it comes to advertising their brand and everything that goes into the packaging (pictured above) - it is well thought out and very well put together.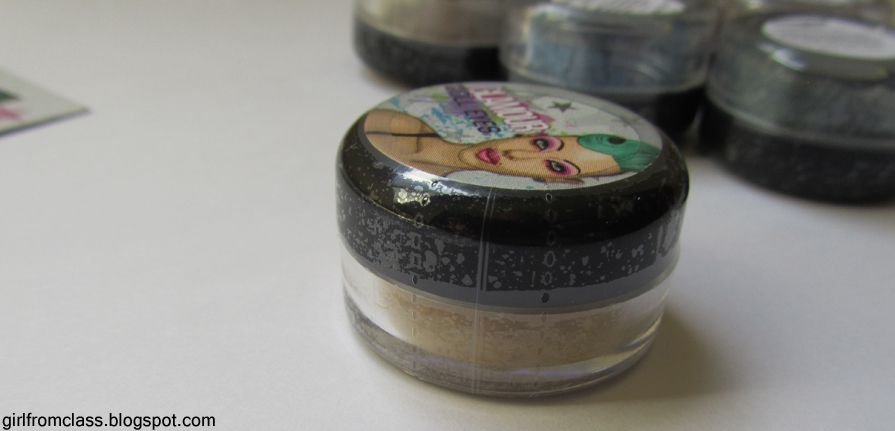 One of my favorite parts about Glamour Doll Eyes is that they are quite literally the only company I know of that offers the "try before you commit" rule - when you order samples from the company and later decide you want (or, you know.. absolutely need) a full size version of the product, they will deduct the cost of the previously purchased sample from the full size if you shoot them an e-mail. How amazing is that!?


They carry a nice range of products - from loose eyeshadows and blushes, eyeshadow primer and foiling serum, and lip glosses to the newly released 'glitter tubes' (loose cosmetic grade glitter mixes with the option to even customize your own blend!), and their soon to be released gel eyeliner 'static line.'
Glamour Doll Eyes' products are not exclusively vegan, but each product page clearly lists information on whether or not the product is vegan, what the ingredients are for each product, and what the specific product is approved for in terms of use (eyes, lips, face, nails, etc.). The labeling on my sample jars also lists ingredients, whether or not it is vegan, and whether or not it is lip safe. When browsing/shopping the website there is an option to 'shop by' and you can narrow it down to vegan only or even non vegan as well as shop by color, finish, which products are new, and even their best sellers (this always helps when I am feeling overwhelmed with color choices, haha).
The icing on the cake, for me, has always been the option to purchase sample sizes of the eyeshadows and not have to compromise on the packaging. I'm really not a fan of sample baggies (I honestly rarely ever touch them because I find them inconvenient and a bit messy) so it is so much more appealing to me to be able to purchase sample sizes in jars. Sample jars are a bit more expensive than their sample bags ($2.50 for a sample jar, $1.25 for the sample baggie) but you are also getting double the product in a jar vs. baggie. Their full size eyeshadows retail for $6 and you have the option as to whether or not you want sifters in your jars (if you opt out of the sifters, the jars will contain a bit more product).


I find that Glamour Doll Eyes is constantly working on new and exciting products as well as actively looking for feedback from their customers. They occasionally have flash sales and post specials on their Facebook page & from time to time they even have contests and giveaways going on over there! If you aren't already a fan of their page, I highly suggest heading on over to their
Facebook page
and liking them so that you can stay up to date and maybe catch their next promo. ;)
You can check out their website
here
and see all the beautiful colors they have to offer. :) I don't want to make this too terribly long to read, so if there is anything I failed to mention or address in this review, it will likely be answered in their FAQ section
here
.
Please note that at this time they are currently away until May 30th (you can still submit orders, but they will not begin processing until then).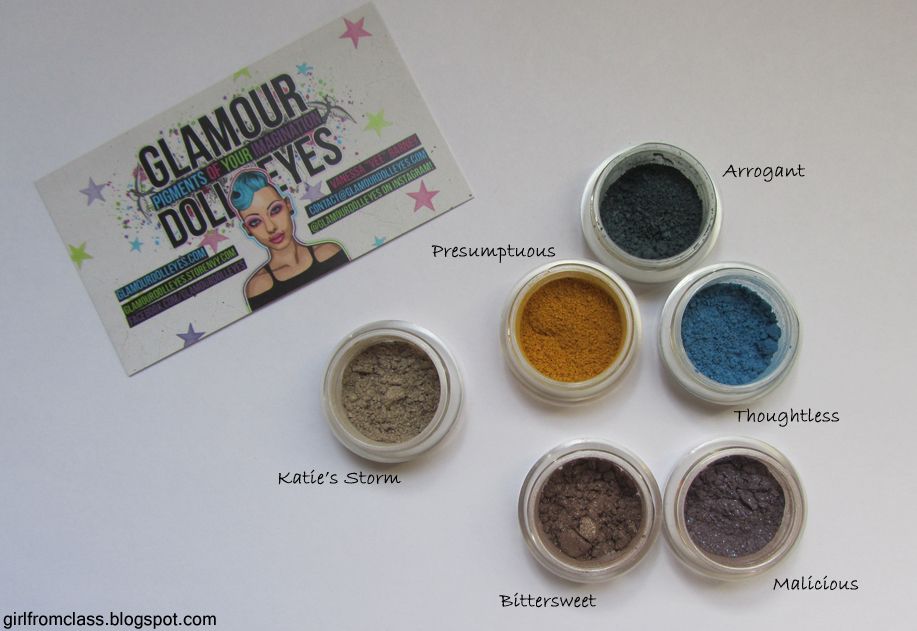 For my review, I decided to pick out some colors that I've had my eye on but kept holding off on ordering. Katie's Storm is actually a color I received as a sample from one of my very first orders a while back (no idea what happened to it :/ ) - I never, ever thought I would like this shade as much as I do, but once I saw it in person it immediately went on my 'must have' list! Presumptuous, Arrogant, and Thoughtless are from the 'Matte²: Masculine' collection - I absolutely love (and am probably a liiiittle bit obsessed with) matte eyeshadows, but I am even more excited that these are all a little more unique and have an added color sheen twist to them. Bittersweet and Malicious are from the 'Pick Your Poison' collection, all of which have the same beautiful neutral/taupe base but with an added duochrome pop of color. ;)
I swear I did swatches on about three or four separate occasions, and I just could not do them justice. They all look even more beautiful in person especially the color sheen on the 'Matte²: Masculine' collection shades. They are to. die. for.! I am so bummed that they didn't show up very well on camera, I hope you will still be able to see some of the colorful sheen that each color has and I promise you they are more apparent in person. All of my swatches were done over Tick:Tock Cosmetics Infinity Eyeshadow Base in 'Milky Way'.
Katie's Storm, Bittersweet, and Malicious
Presumptuous, Arrogant, and Thoughtless
Katie's Storm is a really beautiful light grey but I swear it almost looks a bit 'dusty' (which just makes me love it even more). Bittersweet and Malicious have the same gorgeous taupe base color, but Bittersweet has an orange and slightly golden shift while Malicious has a very obvious (and quite beautiful) blue shift that almost seems a bit violet at some angles (at least to me, it does. haha). Presumptuous is a matte yellow with a light purple sheen. Arrogant is a matte deep teal (that leans more on the green side) with a pretty blue sheen. Thoughtless is really vivid medium matte blue with a pretty striking orange sheen (it was definitely the most obvious color shift of the three)!
I'm really impressed with the 'Matte²: Masculine' collection as a whole. I have a handful of the other shades from the collection and I think if I had to choose, it is by far my favorite collection from Glamour Doll Eyes so far! I really like the added color sheen that each color in the collection has.. it gives the matte eyeshadows a nice unexpected twist and really sets them apart from other matte eyeshadows on the market. I can see myself using Katie's Storm quite a bit.. I find that it's kind of perfect for everyday wear (mostly because my favorite colors are grey and brown.. or taupe!). After trying out the two colors from the 'Pick Your Poison' collection - I think I may just have to pick up the rest. I love love love the base color and the duochrome just makes them even more captivating. All in all, I have no complaints! If I had to think of something to "improve" I would say that I kind of wish Presumptuous had a stronger purple interference. ;) haha
I'm hoping to post more Glamour Doll Eyes swatches soon, including the other shades I own from the 'Matte²: Masculine' collection - so, be on the look out! :D
FTC: These products were sent to me for review by Glamour Doll Eyes. I am not being paid to write this post and all opinions on the products and the company are my own. The photos were taken in natural lighting and are unaltered aside from cropping/adding text.