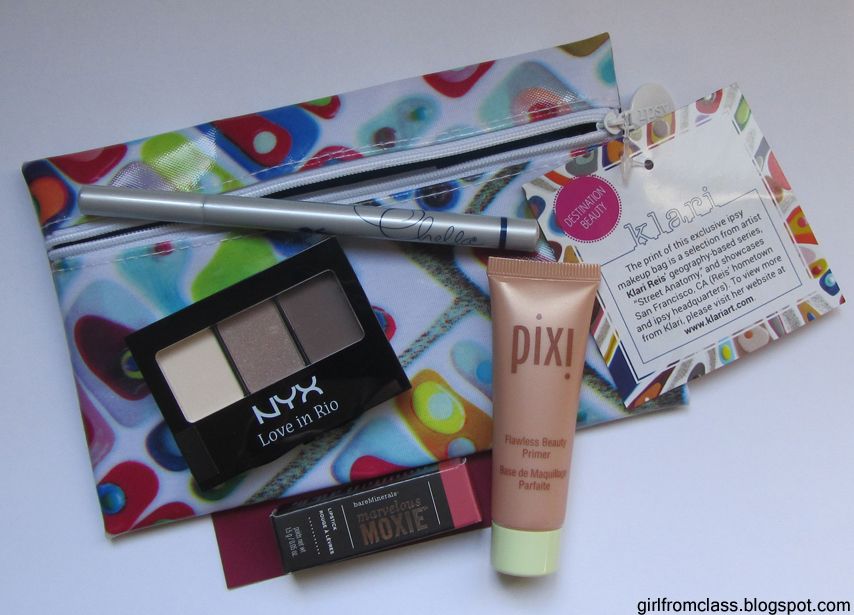 My bag contents this month:
NYX Love in Rio Eyeshadow Palette in 'Barefoot In The Sand' - 3 x 0.035 oz
Chella Eyeliner Pen in 'Indigo Blue' - 1ml/0.034 fl oz
bareMinerals Marvelous Moxie Lipstick in 'Get Ready' - 1.5g/0.05 oz
Pixi Beauty Flawless Beauty Primer - 12ml/0.4 fl oz
Kind of obsessed with the print of the bags this month, and I absolutely love the idea behind it! I hope that this will be a continuing theme with Ipsy featuring more artists for future bags. :) Also really pleased with the items I received this month. I feel as though these are actually products I would have chosen to try this month if given a choice.. just coincidence or ipsyMatch hard at work? I'm not sure.. but, I love it!
Okay, so.. bad news first? When swatching the NYX Eyeshadow Palette, I found that the colors weren't very pigmented. I actually had a hard time trying to build up the color. :( This was pretty unusual for me because I always use an eyeshadow base (or more specifically.. a primer and a base!), and it generally makes even the dullest of colors POP. However, I swatched this trio over my Tick:Tock Cosmetics Infinity Eyeshadow Base in 'Milky Way' and still couldn't get them to show up very well.. I probably wouldn't purchase one of these trios, but I am glad I was able to try this product and am not disappointed to have received it. They are still very pretty colors, even though they are quite subtle.
I was pleasantly surprised by the bareMinerals Marvelous Moxie Lipstick. I really didn't think I would like the color at all, but it's quite lovely and looks absolutely nothing like the 'swatch' on their website. It also feels super moisturizing! I think I might actually check out the other colors available from this line. ;) My hands-down favorite product from my bag this month is the Chella Eyeliner Pen in 'Indigo Blue'. Words cannot even begin to express how much I loooove the color of this eyeliner! Such a nice break and much needed surprise after receiving countless black eyeliners between Birchbox and Ipsy. haha As for the Pixi Flawless Beauty Primer.. I have yet to try it, but I have high hopes because it says that it is 'hydrating' - fingers crossed!
Here are my quick swatches this month:
NYX Love in Rio Eyeshadow Palette in 'Barefoot In The Sand'
bareMinerals Marvelous Moxie Lipstick in 'Get Ready' on the left,
& Chella Eyeliner Pen in 'Indigo Blue' on the right
Are you an Ipsy subscriber (if no, why not!?)? ;) Which items did you fall in love with this month and which products could you have done without? Let me know in the comments! :)
If you're interested in signing up for Ipsy I would love if you use my referral link by clicking
here
. :)
Ipsy is a beauty subscription service. For $10 a month (free shipping within the U.S.), you will receive 4-5 deluxe or full-size beauty products in a 'glam' (cosmetic) bag. You may cancel your subscription at any time (unless, of course, you sign up for a yearly subscription). Ipsy currently has a point based referral system in place (when someone uses your specific referral link to sign up for the monthly glam bag, you will receive 250 points). The points you accumulate can be used to redeem for monthly bonus item(s) in your next glam bag. You are encouraged to give feedback on the products you receive each month, which will help them match you to more relevant products in the future.
Thank you for viewing! <3
FTC: This subscription is paid for by myself/by my boyfriend. I am not being compensated to write this post, these are my honest opinions on the products and the subscription company. If you choose to use my referral link, I will receive referral points on the Ipsy website. The photos were taken in natural lighting and are unaltered aside from cropping.