My bag contents this month:
Michael Todd True Organics Pumpkin Nutrient-Rich Facial Mask - 30ml/1 fl oz
Urban Decay Revolution Lipstick in '69' - 1g/0.03oz
Pixi Beauty Lash Booster Mascara in 'Blackest Black' - 3.0g/0.105oz
MicaBeauty Cosmetics Shimmer Powder in 'Bronze' - 0.1oz/2.5g
Smashbox Photo Finish Foundation Primer - .25 fl oz/7.1ml
Pretty impressed with the featured brands/products sent out this month. Ipsy continues to improve and I only hope that ipsyMatch will continue to do so as well (crossing fingers!). I do have to admit, I preferred when all subscribers received relatively the same products across the board and with little variation between the bags.. but I also understand why that may not be possible with the growing number of subscribers. :P
I am so ecstatic to have received the Urban Decay Revolution Lipstick, and the MicaBeauty Shimmer Powder is absolutely stunning! I will be passing on the Smashbox Primer (I'm probably in the minority here - but it just does not work for me!) and although I am *madly* in love with all things pumpkin/pumpkin spice.. the label states that it is suitable for all skin types except sensitive. I'm taking this as a clear sign that I should steer clear of it entirely, which really bums me out. :( The Pixi Beauty Lash Booster Mascara should be fun to try out! I am a sucker for deluxe sample minis, and mascara is one of my favorites. :)
Quick swatch time! I wanted to show the difference between MicaBeauty Shimmer Powder in 'Earth' (which was previously sent out to some subscribers in April) and MicaBeauty Shimmer Powder in 'Bronze' (which went out to some subscribers this month) as well as the two Urban Decay Revolution Lipstick shades that were sent out to some subscribers this month: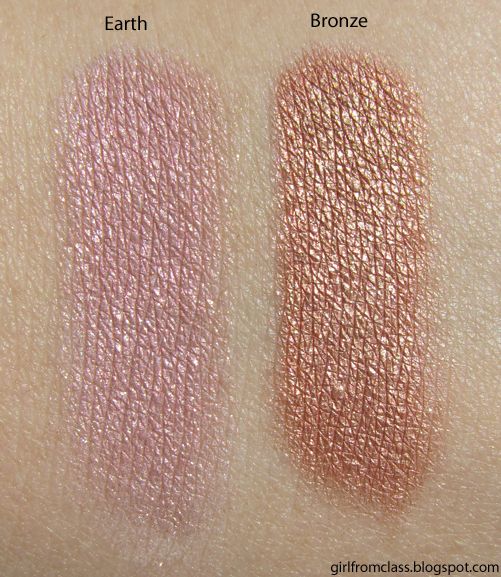 MicaBeauty Cosmetics Shimmer Powder in 'Earth' and 'Bronze' - swatched over NYX JEP in 'Milk'
(I apologize for the dimmer lighting, 'Bronze' was impossible to capture true to color in direct sunlight because of its strong golden sheen. Much more beautiful in person, 'Bronze' also has a very slight pink tint to it!)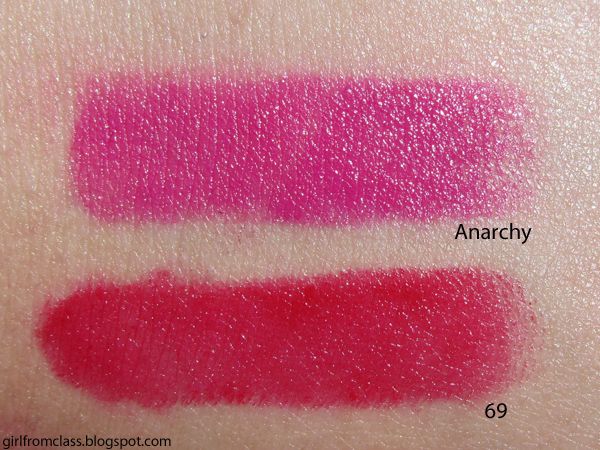 Urban Decay Revolution Lipstick in 'Anarchy' and '69'
'Anarchy' is a gorgeous bright fuchsia and '69' is a bright red with strong pink undertones. Love!
If you're interested in signing up for Ipsy I would love if you use my referral link by clicking here. :)
Ipsy is a beauty subscription service. For $10 a month (free shipping within the U.S.), you will receive 4-5 deluxe or full-size beauty products in a 'glam' (cosmetic) bag. You may cancel your subscription at any time (unless, of course, you sign up for a yearly subscription). Ipsy is currently working on their referral program (when two people use your specific referral link to sign up for the monthly glam bag, you will receive a bonus item in your next glam bag) and allows you to give feedback on the products you receive each month so that they can better match you to more relevant products in the future.
Thank you for viewing! <3
FTC: This subscription is paid for by myself/by my boyfriend. I am not being compensated to write this post, these are my honest opinions on the products and company. If you choose to use my referral link, I may potentially receive a bonus item in my next Glam Bag. The photos were taken in natural lighting and are unaltered aside from cropping.